Become a qualified
property professional
We are proud to announce that we are working with the Council for Licensed Conveyancers.
Licensed Conveyancing Courses
We'll support you on your journey to becoming a Licensed Conveyancer whether you're just starting out or you want to progress in your career. We offer an Introduction to Conveyancing short course and both Level 4 and 6 Diplomas in Conveyancing Law and Practice. 
Take your assessments online - no need to visit an exam centre
24/7 access to short, easy to digest pre-recorded webinars to help you get started
Stay on track with a weekly structure on our Virtual Learning Environment (VLE)
Comprehensive briefing videos and tutor support help you prepare for assessment success
Dedicated tutor support to guide you in your learning and provide personal tutorials via phone or video.
There's clear career progression for those with a conveyancing qualification. Starting as a Trainee Conveyancer you can progress to Licensed Conveyancer and then manage a team at a large company. You could even start up your own conveyancing firm or take up further training and become a solicitor.
Licensed Conveyancers can earn from £20,000 as a trainee and up to £45,000 as an experienced Conveyancer. Conveyancers typically work office hours, Monday-Friday.
Request more information
You can read more information about how MOL uses your personal information by reading our privacy policy here.
Everything you need to know about studying Conveyancing Law and Practice
Don't miss our upcoming webinars and find out what it's like to qualify as a licensed conveyancer with us.
Click the date below to book your place
MOL helps Shoosmiths bring their conveyancing to life
We talk to Vicki Abbott from Shoosmiths Law Firm to find out what it's like to work in the Conveyancing sector.
Vicki explains that as a result of her team achieving their qualification with MOL, they now understand the "why" behind conveyancing law, resulting in a better and more informed service being delivered to their clients. 
How much will my Conveyancing course cost and which level is right for me?
Conveyancing Courses
This short course covers an introduction to the conveyancing industry. You don't need any knowledge or understanding of conveyancing procedure and practice or to be employed in a legal services role to study. 
Duration – 30 days access 
Total Price £119 (includes VAT)
Perfect if you have no previous experience or knowledge of the conveyancing procedure and practice, and want to work towards a career in conveyancing. 
Duration – 12 months
Total Price £2,995 (includes VAT)
If you've already completed Level 4 or hold academic qualifications such as a Law Degree (which may qualify you for study exemption at Level 4), you can start your studies at level 6 and achieve the professional standard expected of a licensed conveyancer. 
Duration – 12 months 
Price from £2,495.00 (includes VAT) 
How will I Learn
Inspired by learner feedback, you will learn 'On Demand' giving you the flexibility to learn your way and in your own time.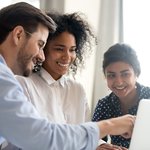 On Demand
Ultimate flexibility to achieve your Conveyancing Law and Practice Qualification anywhere and anytime. Study at your own pace with great support to fit around your work and home life.
Access 24/7
We provide outstanding online course materials, accessible 24/7 on your Virtual Learning Environment (VLE). You learn at your convenience with a combination of videos, reading and activities, which helps you successfully complete your assessments and gain your qualification.
For more information, or for help and advice, please complete our enquiry form or call one of our friendly Qualification Advisors
10% Discount for SLC members
The Society of Licenced Conveyancers (SLC) is the professional body that represents the interest of Licensed Conveyancers in England and Wales. We are delighted to offer a 10% discount off our Level 4 and 6 Diplomas in Conveyancing Law and Practice to any student or full member of the SLC.