Become a qualified
property professional
We are proud to announce that we are working with the Council for Licensed Conveyancers.
Licensed Conveyancing Courses
Licensed Conveyancers are real experts. They're specialists in managing all documentation, contracts and financial arrangements associated with buying or selling a residential or commercial property or piece of land. They do everything a solicitor does in a conveyancing transaction and have the same legal authority to act. 
MOL offer both Level 4 and Level 6 Diplomas in Conveyancing Law and Practice. We include in the course, free access to West Law, a leading global provider of legal, regulatory and business information and analytics to support you through your studies. 
Become a licensed practitioner in your field with the Council of Licensed Conveyancers professional qualification.
Request more information
You can read more information about how MOL uses your personal information by reading our privacy policy here.
How much will my Conveyancing course cost and which level is right for me?
Conveyancing Courses
This short course covers an introduction to the conveyancing industry. You don't need any knowledge or understanding of conveyancing procedure and practice or to be employed in a legal services role to study. 
Duration – 30 days access 
Total Price £119 (includes VAT)
Perfect if you have no previous experience or knowledge of the conveyancing procedure and practice, and want to work towards a career in conveyancing. 
Duration – 12 months
Total Price £2,995 (includes VAT)
If you've already completed Level 4 or hold academic qualifications such as a Law Degree (which may qualify you for study exemption at Level 4), you can start your studies at level 6 and achieve the professional standard expected of a licensed conveyancer. 
Duration – 12 months 
Price from £2,495.00 (includes VAT) 
How will I Learn
Inspired by learner feedback, you will learn 'On Demand' giving you the flexibility to learn your way and in your own time.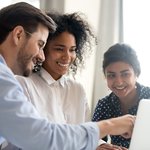 On Demand
Ultimate flexibility to achieve your Conveyancing Law and Practice Qualification anywhere and anytime. Study at your own pace with great support to fit around your work and home life.
Access 24/7
We provide outstanding online course materials, accessible 24/7 on your Virtual Learning Environment (VLE). You learn at your convenience with a combination of videos, reading and activities, which helps you successfully complete your assessments and gain your qualification.
For more information, or for help and advice, please complete our enquiry form or call one of our friendly Qualification Advisors
10% Discount for SLC members
The Society of Licenced Conveyancers (SLC) is the professional body that represents the interest of Licensed Conveyancers in England and Wales. We are delighted to offer a 10% discount off our Level 4 and 6 Diplomas in Conveyancing Law and Practice to any student or full member of the SLC.