Level 4


Diploma in Conveyancing
Law and Practice

Price: £2,995 (includes VAT)

Length: 12 months
Conveyancing course overview
This course covers the base knowledge needed to work in the conveyancing industry.
The course itself is broken up into five different units which will help give students a basic understanding of areas such as the English legal system, conveyancing transactions and law revolving around land and contracts. This course is designed for those who don't yet have a law qualification and to support those who are starting out in their conveyancing career. 
Who should complete the Level 4 conveyancing course?
Helping someone to take their first steps on to the property ladder or selling a property for a client is both rewarding and challenging.
If you want to work towards your dream career in Conveyancing whilst helping someone to take the steps towards owning their dream home, the Level 4 Diploma qualification can help you to achieve your goal.
Request more information
You can read more information about how MOL uses your personal information by reading our privacy policy here.
What will the Level 4 Diploma in Conveyancing Law and Practice cover?
Modules
This unit introduces the law and legal method in England and Wales by describing in detail how legal rules are made. It gives an overview of the constitution and how it regulates the allocations of functions, powers, and duties amongst the agencies of government and the relationship between them, including the courts (and tribunals) in relation to civil and criminal matters.
This unit is designed to introduce the rules of Contract Law. The unit will focus on establishing and the formation of a valid contract and bringing a contract to an end. It will also include common law rules and when a contract is deemed to be void or voidable. In addition, the unit will cover recognising possible defects in a contract and remedies that might be available where a breach of contract has been identified.
This unit is designed to introduce real property and will include the basic legal principles of English Land Law. The unit will develop a general knowledge and understanding of the core principles and concepts within English Land Law including the development of Land Law, ownership of land, rights over land, joint ownership, mortgages, and adverse possession. In addition, it covers how to provide advice in a given fact situation on courses of preventative, remedial action, remedies, practical consequence and possible solution(s).
This unit is designed to give an introduction and practical insight into the standard conveyancing transactions in England and Wales. The unit covers a standard residential sale and purchase transaction of registered freehold land from initial instructions to post-completion, and finally, including an explanation of the practical steps and documentation required. It also covers the basic concepts in leasehold, commonhold and unregistered land, as well as the use of mortgage finance for a purchase within a standard residential conveyancing transaction.
This Unit is designed to introduce the accounting procedures and rules relevant to conveyancing transactions. It will cover good book-keeping practices, such as double entry systems, and the basic principles of recording and dealing with transactions in the context of the CLC Accounts Code and Guidance, including the uses of office and client bank accounts. 
In addition, it will cover accounting entries to demonstrate receipts, payments and transfers of office and client money, and to correct errors, as well as preparing conveyancing statements, billing procedures, and paying interest to clients. 
How will I Learn
Inspired by learner feedback, you will learn 'On Demand' giving you the flexibility to learn your way and in your own time.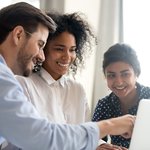 On Demand
Ultimate flexibility to achieve your Conveyancing Law and Practice Qualification anywhere and anytime. Study at your own pace with great support to fit around your work and home life.
Support
Our expert tutors are there to support you throughout your studies and your assessments. Our tutors don't just provide advice in the webinars (virtual classroom); we make sure you have a dedicated tutor on hand when you need support.
Real Expertise
Our tutors are experts in both industry and education and make sure your learning really takes your understanding to the next level. They provide insight from years of experience, working in the conveyancing industry.
Access 24/7
We provide outstanding online course materials, accessible 24/7 on your Virtual Learning Environment (VLE). You learn at your convenience with a combination of videos, reading and activities, which helps you successfully complete your assessments and gain your qualification.
For more information, or for help and advice, please complete our enquiry form or call one of our friendly Qualification Advisors
10% Discount for SLC members
The Society of Licenced Conveyancers (SLC) is the professional body that represents the interest of Licensed Conveyancers in England and Wales. We are delighted to offer a 10% discount off our Level 4 and 6 Diplomas in Conveyancing Law and Practice to any student or full member of the SLC.