Conveyancing:
An Introduction for
Property Professionals

Price: £119 (inc. VAT)

Duration: 30 days access

Assignment: One multiple choice exam
Conveyancing: An Introduction for Property Professionals
This qualification is an ideal introduction if you're starting out in your conveyancing career, or if you have an interest in property sales (for example, as a property developer, estate agent or mortgage broker).
You'll gain an understanding of the role of conveyancers, the basics of property law and the stages of the conveyancing process.
When you achieve your qualification, you'll feel confident to be able to progress onto the Level 4 Diploma in Conveyancing Law and Practice.
No prior knowledge or qualifications are needed.  However, a strong foundation in English and maths will be helpful.
Request more information
You can read more information about how MOL uses your personal information by reading our privacy policy here.
Everything you need to know about studying Conveyancing Law and Practice
Don't miss our upcoming webinars and find out what it's like to qualify as a licensed conveyancer with us.
Click the date below to book your place
MOL helps Shoosmiths bring their conveyancing to life
We talk to Vicki Abbott from Shoosmiths Law Firm to find out what it's like to work in the Conveyancing sector.
Vicki explains that as a result of her team achieving their qualification with MOL, they now understand the "why" behind conveyancing law, resulting in a better and more informed service being delivered to their clients. 
What will this conveyancing course cover?
There are four modules
An introduction to the conveyancing process, as well as some of the key professionals and organisations you will come across.
A look at why it's important for property professionals and lay people to know about the conveyancing process and what skills are needed to work in a legal office environment.
This module explains the meaning of 'title to land', 'freehold' and 'leasehold'.
Discovering the key steps in the conveyancing process, as well as looking at some of the risks to the job.
A short, multiple-choice exam will assess your understanding of the learning modules.
How will I Learn
Inspired by learner feedback, you will learn 'On Demand' giving you the flexibility to learn your way and in your own time.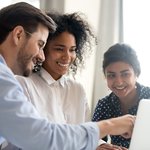 On Demand
Ultimate flexibility to achieve your Conveyancing Law and Practice Qualification anywhere and anytime. Study at your own pace with great support to fit around your work and home life.
Access 24/7
We provide outstanding online course materials, accessible 24/7 on your Virtual Learning Environment (VLE). You learn at your convenience with a combination of videos, reading and activities, which helps you successfully complete your assessments and gain your qualification.
For more information, or for help and advice, please complete our enquiry form or call one of our friendly Qualification Advisors
10% Discount for SLC members
The Society of Licenced Conveyancers (SLC) is the professional body that represents the interest of Licensed Conveyancers in England and Wales. We are delighted to offer a 10% discount off our Level 4 and 6 Diplomas in Conveyancing Law and Practice to any student or full member of the SLC.