Level 6


Diploma in Conveyancing
Law and Practice
We are proud to announce that we are working with the Council for Licensed Conveyancers.
Level 6 Diploma in Conveyancing Law and Practice
This Level 6 Diploma in Conveyancing Law and Practice covers all the specialist skills associated with conveyancing law and helps you understand the legalities behind buying and selling different properties.
This highly regarded course supports your understanding of conveyancing law and practice and helps you meet the professional standard expected of a licensed conveyancer. 
Demonstrate your professionalism to clients, increase demand for your services and gain a competitive edge over your peers by achieving your Level 6 professional qualification.
Candidates with no legal qualifications should start by completing the Level 4 Diploma in Conveyancing Law and Practice, before progressing onto the Level 6 Diploma and working towards becoming a Licensed Conveyancer. The Level 6 Diploma is awarded by SQA, the national awarding organisation.
Request more information
You can read more information about how MOL uses your personal information by reading our privacy policy here.
Everything you need to know about studying Conveyancing Law and Practice
Don't miss our upcoming webinar and find out what it's like to qualify as a licensed conveyancer with us.
Tue 14 Feb | 12pm
What will the Level 6 Diploma in Conveyancing Law and Practice cover?
Modules
This unit is designed to introduce the law of landlord and tenant and how this is applies to leasehold conveyancing in both residential and commercial leases. It will concentrate particularly upon the covenants that are contained within a lease, the enforceability of those covenants and remedies available for non-compliance. The unit will also include information on various types of tenancy, the circumstances in which statutory protection is available for short term residential tenants and how this is governed by the Rent Act 1977 and the Housing Act 1988. In addition, it will also include rent regulation, the rules for mobile homes and an overview of agricultural tenancies.
This unit is designed to give a detailed and practical insight into conveyancing transactions in England and Wales. It is intended to help learners to develop practical skills in residential conveyancing and to manage a caseload of complex residential transactions. The unit covers practical skills in preparing and completing a sale contract and associated conveyancing documentation for both registered and unregistered land in both freehold and leasehold transactions, as well as drafting a transfer deed and, where appropriate, a deed of trust, for both registered and unregistered land in both freehold and leasehold transactions. It provides learners with knowledge and/or skills to apply the concepts of conveyancing in a practical sense to the complexities of the conveyancing process.
This unit is designed to introduce more complex accounting procedures and rules relevant to conveyancing transactions, as well as accounting rules and principles relating to the management of a conveyancing business. It is primarily intended for learners who are working in or have previous experience of conveyancing and/or conveyancing related financial administration, and who wish to move into or become familiar with the financial aspects of managing a conveyancing business. The unit is also relevant to those with appropriate work experience who wish to further formalise their financial accounting skills in the conveyancing sector. It is designed specifically for learners following the SQA Level 6 Diploma in Conveyancing Law and Practice (England and Wales). However, learners do not need to be working in a conveyancing context to generate the necessary evidence to achieve the unit.
How will I Learn
Inspired by learner feedback, you will learn 'On Demand' giving you the flexibility to learn your way and in your own time.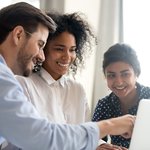 On Demand
Ultimate flexibility to achieve your Conveyancing Law and Practice Qualification anywhere and anytime. Study at your own pace with great support to fit around your work and home life.
Support
Our expert tutors are there to support you throughout your studies and your assessments. Our tutors don't just provide advice in the webinars (virtual classroom); we make sure you have a dedicated tutor on hand when you need support.
Real Expertise
Our tutors are experts in both industry and education and make sure your learning really takes your understanding to the next level. They provide insight from years of experience, working in the conveyancing industry.
Access 24/7
We provide outstanding online course materials, accessible 24/7 on your Virtual Learning Environment (VLE). You learn at your convenience with a combination of videos, reading and activities, which helps you successfully complete your assessments and gain your qualification.
For more information please complete our enquiry form or call one of our Qualification Advisors on:
10% Discount for SLC members
The Society of Licenced Conveyancers (SLC) is the professional body that represents the interest of Licensed Conveyancers in England and Wales. We are delighted to offer a 10% discount off our Level 4 and 6 Diplomas in Conveyancing Law and Practice to any student or full member of the SLC.