Level 6


Diploma in Conveyancing
Law and Practice

Price: £2,495 (inc. VAT)

Duration: 12 months

Assignments: Written and exams
Level 6 Diploma in Conveyancing Law and Practice
This qualification is ideal if you have some experience in conveyancing and want to become licensed by the Council for Licensed Conveyancers so you can progress your career. 
You'll gain a deeper understanding of conveyancing law and practice, looking in greater detail at contracts and leases between landlords and tenants, learning how to draw up deeds, and how to manage conveyancing transactions and accounts.
Once you've achieved your Level 6 Diploma in Conveyancing Law and Practice and gained the necessary practical experience you can apply for your CLC licence and become a fully qualified Licensed Conveyancer.
If you don't have any current legal qualifications, you should start by completing the Level 4 Diploma in Conveyancing Law and Practice.
Request more information
You can read more information about how MOL uses your personal information by reading our privacy policy here.
Everything you need to know about studying Conveyancing Law and Practice
Don't miss our upcoming webinars and find out what it's like to qualify as a licensed conveyancer with us.
Click the date below to book your place
MOL helps Shoosmiths bring their conveyancing to life
We talk to Vicki Abbott from Shoosmiths Law Firm to find out what it's like to work in the Conveyancing sector.
Vicki explains that as a result of her team achieving their qualification with MOL, they now understand the "why" behind conveyancing law, resulting in a better and more informed service being delivered to their clients. 
What will the Level 6 Diploma cover?
There are three modules
As the title suggests, this module will give you an in-depth understanding of how the law affects both landlord and tenant. 
Subjects include residential and commercial leases, covenants, tenancy types, the Rent Act (1977) and Housing Act (1988), rent regulation, mobile homes, and agricultural tenancies, giving you a comprehensive understanding of this area of conveyancing law.
This module will give you a detailed and practical insight into conveyancing transactions in England and Wales.
You'll develop practical skills in residential conveyancing and learn to manage a caseload of complex residential transactions. Subjects include drafting sales contracts, associated conveyancing documents, and deeds.
By the end of the module, you'll have the knowledge and skills to practically apply the concepts of conveyancing to the complexities of the conveyancing process.
Learn to manage the more complex accounting procedures and rules relevant to conveyancing transactions, as well as accounting rules and principles relating to the management of a conveyancing business.
While this module is designed specifically for learners following the SQA Level 6 Diploma in Conveyancing Law and Practice (England and Wales), it may also be of interest if you have previous experience of conveyancing and wish to move into the financial aspects of managing a conveyancing business.
How will I Learn
Inspired by learner feedback, you will learn 'On Demand' giving you the flexibility to learn your way and in your own time.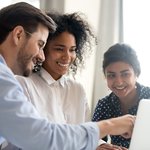 On Demand
Ultimate flexibility to achieve your Conveyancing Law and Practice Qualification anywhere and anytime. Study at your own pace with great support to fit around your work and home life.
Support
Our expert tutors are there to support you throughout your studies and your assessments. Our tutors don't just provide advice in the webinars (virtual classroom); we make sure you have a dedicated tutor on hand when you need support.
Real Expertise
Our tutors are experts in both industry and education and make sure your learning really takes your understanding to the next level. They provide insight from years of experience, working in the conveyancing industry.
Access 24/7
We provide outstanding online course materials, accessible 24/7 on your Virtual Learning Environment (VLE). You learn at your convenience with a combination of videos, reading and activities, which helps you successfully complete your assessments and gain your qualification.
For more information, or for help and advice, please complete our enquiry form or call one of our friendly Qualification Advisors
10% Discount for SLC members
The Society of Licensed Conveyancers (SLC) is the professional body that represents the interest of Licensed Conveyancers in England and Wales. We are delighted to offer a 10% discount off our Level 4 and 6 Diplomas in Conveyancing Law and Practice to any student or full member of the SLC.